I am so EXCITED to be participating in this Months Magazine Copy Cat Challenge
( I missed the last one.. )
Over at Debbiedoos Blog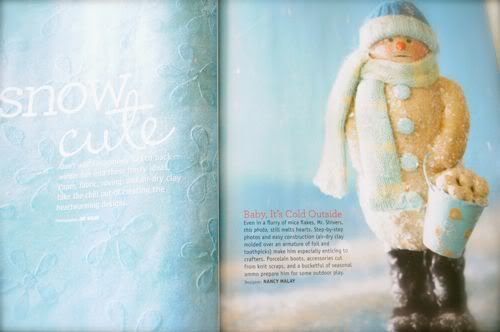 I was at Target and picked up the Magazine from Better Homes and Gardens and of course I always quickly flip through the pages and see if there is anything of interest inside… I came across this ADORABLE little snowman and new INSTANTLY this was what I was going to attempt to COPY CAT…
Isn't He Cute..??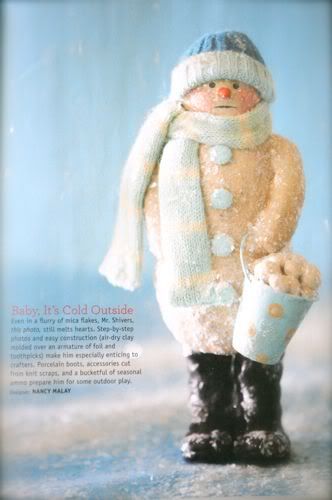 Well… Wouldn't you know… He comes with INSTRUCTIONS!!
It doesn't get any better than that…
Now!!
The only thing is… I don't work with Clay. However our son Garrett LOVES to work with clay and I knew how much fun he and I would have together working on this Copycat Challenge. Some of you may remember what he MADE for me. We had to make everything from scratch
(ha ha ha… WE.. more like HE!!
The Original one in the Magazine had Pre- Made Porcelain Boots as well as a Ready made Bucket… They were kind to offer the Resources from which they bought them from… But I was already running late on this project so time was NOT something I had a lot of, so ordering these things was CERTAINLY out of the question….So this is what We did…
I printed out the Instructions and then Garrett taped them up above his work desk… He foil formed the body and made the bucket and snowballs out of clay…. Then he began covering the foil body in Air Dry clay

 He finished off with making the boots and then handed it off to me to paint…
It was as though we were in a Crafting Marathon and we had to work together in making this project come together with non other than "TEAM EFFORT"
And, that's EXACTLY what it was.
Because there is no way I could of made it happen without him.
Sure I could have picked something else to copycat making it a SOLO project but the Rewards just wouldn't have been the same.
 I forgot to get pictures of the Process of how I made his little hat and scarf… I made it using a baby boys Layette Cap set…and Tea Stained it for age…The pom pom was left over from some yarn used to make the Winter Ice Skates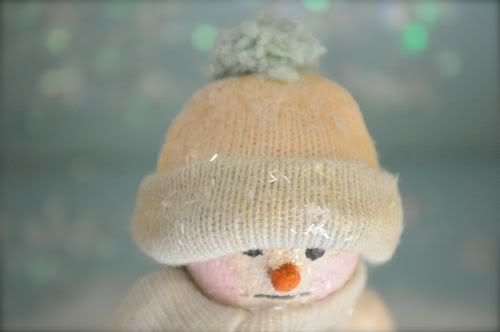 I cut a Hat shape in the material measuring slightly bigger than the ROUNDEST part of my little snowman's head, I then stitched right sides together forming the hat..

In a contrasting fabric I cut a strip for the hat band ( making sure to measure around the top of the hat )… I then sewed the hat band on the INSIDE of the hat… then flipping the band to up to the right side… ( DID THAT MAKE ANY SENSE..?? )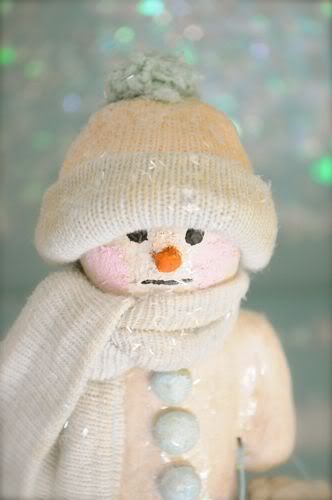 For the Scarf I used the Striped print ( from the layette cap set ) and cut one long strip about 2.5 inches wide and then sewed right sides together and turning right sides out…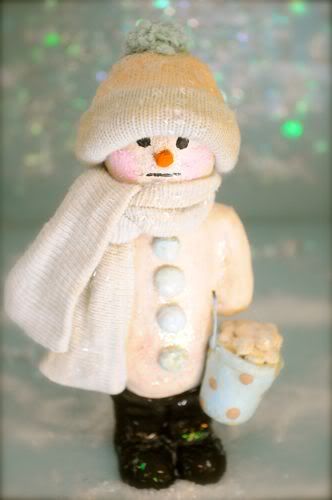 The Buttons and Nose were made out of clay as well… 
Our Mr. Snowman was then Sprinkled with Martha Stewart's Tinsel Glitter… ALL over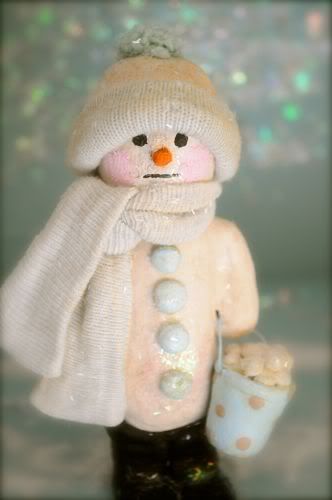 Garrett felt as though our Little Mr. Snowman could become lonely in time and while I was busy painting and putting the finishing touches on the Mr. he came with the Body and form of a Mrs.
( I gladly decorated her and presented to her Mr. )

And…
Isn't she just the SWEETEST thing you have ever seen…??
We think so…
A BIG thank you to our son Garrett for all his hard work and willingness to come along side and help with a joyful heart.
May Your Winter Season Be Blessed..