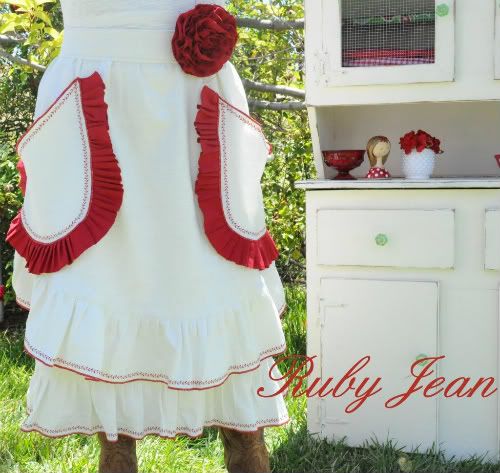 A Little Story On How, Momma's Farmhouse Apron Came To Be….
The Summer of 1811 would be the year that our family's way of life would change forever…
It was a Friday afternoon, I remember that because Daddy arrived home early from work that day…And that was something he never did…He was a hard working man, he was… I was just coming down the stairs when the front door to our home opened up and in walked Daddy…Momma called from the kitchen saying, "Joe, Joe..is that you.?" she thought it was my little brother that had just come inside. I looked up at Daddy and he put his finger to his mouth and with the most hushed of whispers he said, "SSHHH" Oh it put the biggest grin on my face and it took all the strength that my little body had to hold tight to the overwhelming giggles that wanted to come bursting out.  Daddy was always one to surprise Momma every chance he got… And,Boy Oh Boy… there was never a man alive before or possibly even to this day, that Loved his wife as much as my Daddy did his…
I don't even think I thought or considered what it was that possibly brought my Daddy home early from work that day..I was just so excited to see him that it clouded any thoughts that I did or might  have had…
We could hear Momma in the Kitchen cleaning and preparing for the dinner party we were to be having that night, just as Daddy began to approach the kitchen….Momma came walking out and stopped dead in her tracks…I remember looking and seeing her face show signs of surprise and shock, yet at the same time I saw such love in her eyes and a light that was so bright that shined forth as she looked into my Daddy's eyes… At that moment Daddy turned to me and said, " Cupcake…( that's what he always called me…and though I had heard it a 1000xs over it never failed to  warm my heart and it always put the  biggest smile on my face..) do you think you can do your Daddy a big favor…?" I shook my head wildly up and down with excitement, and with great anticipation I stood waiting to hear what he was going to ask me to do…" It would be a great help to me  if you could go and gather up your brothers and sister and let them know that Momma and I would like to meet  with them in the family room"….Well Daddy didn't have to ask twice…I took off running like a mouse on the hunt  for her cheese…
Little did I know that Daddy had some news to tell us that would change our family's life forever…
You see Daddy had a very good job, he was considered one of the most valued employee's so much so that he had been promoted over the years and was making very good money, that we never wanted for anything…Anything material that is…But you see my Daddy, though successful at his job and valued and respected from his peers and employee's, he longed to be at home with his family…He would always tell us that all the success and money in the world couldn't satisfy him or bring him  true joy and happiness in life… As it would if he were  home working with his family every day… But at the same time he would always say, in order for that to be possible it  would come with sacrifice and hard work…Little did I know then, like I do now that he was laying the ground work and preparing us for the wonderful change that would soon come to our family …
Well…there we were, all gathered in the family room, Momma sitting in her chair…Looking ever so pretty in her hostess dress and apron ( Momma always got dressed early when we had dinner parties..she would always tell us, " It's best to use your time wisely.. ")  and Daddy kneeling at her side with his hands in hers…" Well, Sweet One's ( that's what Daddy always said when he was talking about all of us..) it looks as though the Hand of Providence has shined down upon us.."  All of us children just looked at each other and then back at Daddy with wide eyes…You see there was something that all us children did every night before we would  lay ourselves down to sleep…Every night we would kneel down beside our beds and with folded hands we would thank the Good Lord for all He has done and then we would humbly ask, " Please Lord bring our Daddy home.." I don't know how…but we all seemed to know it in our heart of hearts… Daddy was coming home…There was nothing in the world that could of held us children to that family room floor…It was as though somebody had pushed a button and all of us children jumped up in one accord and ran into the arms of our Momma and Daddy…I remember it was as though time stood still as we stood there holding each other as tears flowed freely from all of us….
Yep!!! you guessed it… We happily said goodbye to the Big City and with open arms we welcomed our new life…A Simple Life…A Farmer's Life…
Daddy bought Momma a simple yet beautiful Farmhouse…And boy oh boy did we love it, but not as much as we loved having Daddy home with us every day…There was just nothing better than that..And though we had left the Big City life and all that it had to offer behind us… Momma said that it didn't mean we had to leave the Ruffles there too!!